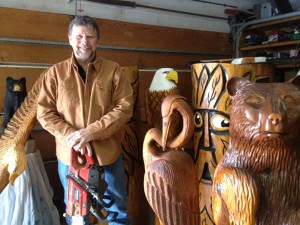 Feeling blessed to have been born and raised in God's country just out of Pine Falls, Manitoba, and having spent over 50 years of my life surrounded by wildlife. I enjoy the wilderness and spend much of my time growing and harvesting wild rice in some of Manitoba's most pristine lakes, isolated in the Canadian Shield.
In 2009 I pursued my dream and self taught myself the art of sculpturing out of the logs that were left behind by the paper mill when it closed its doors. After studying and carving for six months I was invited to attend the Ridgway Chainsaw Carver Rendezvous in Pennsylvania. I attended for a week with 165 carvers from around the globe. It was a great inspiration to meet some of the best chainsaw carvers and their willingness to share their knowledge.
I enjoy studying the anatomy of animals and passion bringing them to life in sculpture form using wood as my canvas. Wildlife carvings are my favorite but I do like to venture to other subjects.
Many of my carving are sold as one of a kind gifts for retirement, weddings, birthdays, and anniversaries.
Giving new meaning and a life beyond to a resource that would otherwise be thrown away.